BootsnAll 10th Anniversary Party – December 6, 2008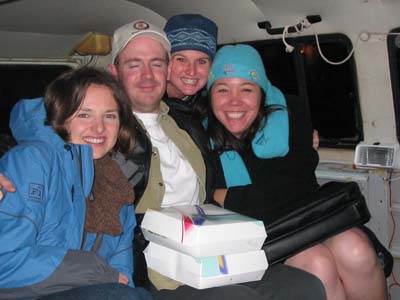 Yer Baby! I can't believe it. 10 years that BootsnAll has been at it. Chris, Nick and I literally started BootsnAll in a little crappy house in Eugene, Oregon in late '98, early 1999 and we are still at it today.
We are pulling out all the freakin' stops and props for this bash. Why?. Well, why not is more like it. Ha Ha. The real reason is because we want to share and celebrate 10 years of connecting with other independent travelers and we are damn thankful to still be here! Mark the following dates and times on your calendar and come to this celebration. You will not regret it.
The details:
Date: Saturday, December 6, 2008
Location: The Wonder Ballroom in Portland, Oregon
Time: 7 pm till 11 pm – main party
After Party: 11 pm till 2 am – DJ spinning and all that stuff.
RSVP here
Top 13 Reasons to Come to the BnA 10 year anniversary Party
1) It's gonna be fun. We have tonnes of travel prizes and activities that you probably haven't done before.
2) It's gonna be huge. The Wonder Ball Room can accommodate up to 600 people. We're not sure how many will be there, but when was the last time you went to an event, put on by a private company that has been in the online travel space for 10 years? Never? Thought so. Come.
3) If you come, I will give you a hug. Now, you'll need to mention this, and I will happily do it. There is not enough hugging in this world.
4) Beer, Wine, and Fun. There will be loads of drinks. If you are a drinker, you'll be fine here. If you are non-drinker, you will also be happy cuz no one will be getting smashed out of their minds besides Static (and me once the dance party starts at 11 pm).
5) Rolf Potts. Legendary traveler and writer Rolf Potts is coming to the BnA 10 year anniversary party. Come meet and drink with this thoughtful traveler.
6) Get inspired about life: Are you bored with your job? Are going through the motions in life? If so, get your arse to this party and meet people that are planning epic trips, on epic trips, or just got back from an epic trip.
7) Aussies. Yeah, you know. The folks from down under. The shrimp on a barbie/kangaroo hamburger people. At least one of them will be at this party giving away drinks and spreading good cheer. Meet this secret guest and uncover the secret of Australia, the modern day land of milk and honey.
If you come, BootsnAll's Italy Lover Jessica will teach you at least one swear word in Italian. It sounds cool and is fun to blurt it out at inappropriate times.
9) Keep Portland Weird! It's a saying that we see on bumper stickers in this town. I also like to scream it out at random times during the day. Come to the beautiful city of Portland Oregon, see why it's a little weird, but also why so many young and old creative and green folks are moving to the town that most magazines rate as the best, the greenest etc.
10) Because you like the little guy. BootsnAll is the last independent online travel company of substantive size that has not sold out to The Man. No one from the 90′s is around in it's original form. Come find out why, or rediscover, what makes the BootsnAll community unique. People actually care. People like you.
11) You are a blogger or want to be one. There will be a lot of Blog and Twitter fodder for this weekend. Take fun pictures and meet new people to add to your Twitter.
12) Diversity of people. We have been doing these parties for five years now. All sort of folks love to travel independently. Come meet people you don't normally talk to. They don't bite and it's fun to learn about the world through other people. Kinda like traveling!
13) You are my friend/acquaintance and you want to see what BootsnAll is up to. Maybe you met me 2 to 9 years ago. Maybe I was cool. Maybe I was a wanker. Either way, we made it this far and have made a lot of friends over the years. Come hang with me and let me buy you a few beers. Let's reconnect. Seriously. sean at BootsnAll dot com to get it started.
Put it on your Calendar now. You won't regret it.
We're working on all kinds of fun things, like special guests, giveaways, prizes, presentations, etc. Check the official party thread to stay updated on all news, announcements, and to RSVP.
Here's what we have confirmed so far:
We're giving away tons of awesome prizes, including a grand prize $1,500 trip!
A $250 voucher to anywhere
Rolf Potts, author of the travel classic Vagabonding, will be there to answer all your long-term travel questions.
We've got big plans for this bash, so keep checking back as we confirm more prizes, guests, and activities.
Comments
Congrats in advance, Bootsnall, and here's to 10 more wonderful years!
Pete
Scary to think I knew you when…. It's been a long time since I've seen any of you guys… Weird to think it's been 10 years…
Congratulations to you and BOOTS for your milestone!
Carmen
Thanks Carmen – it is funny how fast time goes by. I hope you make it to the party!
Oh I so hate it that i'm so far away
Next year I'll be there for sure! Happy B-day in Advance!:)
Hi Guys… Lisa and Arun from the UK wish you all the very very best. Virtual hugs.
I'm debating on coming. My wife is due on Dec. 31st, so I'm not sure I'm clear to go yet. I'll keep you posted. This is our first kid so I'm not sure how these things work.
Ahhhh the Boot Bus! It has been a long time.
Sadly, I won't be able to attend the party because I'll either be in the delivery room pushing out Sweet Baby Caldwell – or I'll be ready to burst or have just given birth and will be sorting out the whole nursing bit.
That would be awesome if our little girl is born on the night of the party – Due date Dec. 7 – so it's close!
And needless to say, I'll be twittering my event which maybe Sean will in turn retweet if my wee traveler spawn is born. Either way, I'll raise a glass to the Boyz from North County San Diego.
Get your ass to Portland everyone – it's a blast!!!
Thanks for the wishes Arun, Lisa and Cristina.
Kelsey – wow – exciting times for you. If you make it, we'll highlight your book and stuff like that. Ping me when you know.
Cant you move the party to India! will be there and thinking of the great party im missing out on!!!!
Congrats on ten years and thanks for the invite. Just got back from Saudi Arabia and Bahrain. I will be in Iowa the night of your party. I'll surprise you one of these days and drop in.
Cheers, and thanks for the great site and newsletter. Rich
A big congrats on your 10 year anniversary party! I've always lurked in the shadows of BnA (meaning I've read stuff but not participated much.)
In December though, I'll still definitely be here in Seoul. Here is wishing you an awesome party!
I'm so sorry to miss this party. I would love to bring Rolf's book and have him sign it. I would also love to learn some swear words in Italian from Jessica.
As a Duck from UofO, I need to get myself up to Ptown, but I'll be coming back from Luxury Travel Expo in Vegas.
Cheers to the Boots Boyz & girls.
Party on
Hiya,
So I saw this upcoming event on Yahoo events and was wondering if it's only for people associated with BootsnAll? My fiance and I are new to the area and are always looking to meet new people. We also are looking to explore new ideas for our september 09 honeymoon. Post back here to let me know? coo?
Congratulations! Wish I could have come to the party.
What is BootBlog?
BootBlog is the company blog of the
BootsnAll Travel Network
, a company that has been connecting travellers since 1998. Our goal is to inspire, educate and cultivate an organic community of independent travellers. But what does that mean? Well, we love to travel and we love to connect other travellers who have the desire to get out and see this great world of ours. BootBlog will showcase what is going on around the office, around the company and within our community of travellers.
Top Categories
Featured Post
BootsnAll Launches Traveler Connect Facebook App
BootsnAll Travel Network is launching a Facebook application to connect travelers.
Portland, Oregon June 21, 2010
-- BootsnAll Travel Network has created a Facebook application --
BootsnAll Traveler Connect
-- that helps connect travelers. The app lets you find other travelers going to the same place you are, or connect with locals living there. Users can ask travel questions, arrange … [
Read more
]
Member Spotlight
BootsnAll Member Bideshi in Portland
It's been awhile since we had a BootsnAll member stop by the office. However, thank to a
recent post
on the message boards wondering where the Boots Crew were these days, we managed to arrange lunch with
Bideshi
, aka Mike (blue shirt below).
With a couple of stints working in South … [
Read more
]
Events
Boston Globe Travel Show for (Almost) Free!
Awhile back I posted here about getting into the
Boston Globe Travel Show for free
. Turns out that was for the trade conference during the day on Friday Feb 19th, not the travel show for regular consumers like you and me that runs from the
evening
of Friday, February 19 to … [
Read more
]
BnA on Twitter
Archives
We Recommend: