Getting Geared Up for TBEX in Vancouver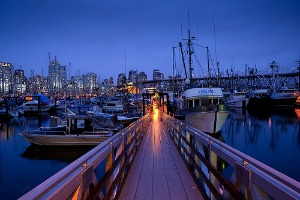 I'm not one to turn down an opportunity to travel, whether it's for work or otherwise, and I've found fun things to do in places that didn't seem all that exciting – but when a conference I know I'll be going to gets scheduled for an exceptionally cool city like Vancouver, BC, I'm even happier.
The fact that it can be tough at times to find cheap tickets to Canada is certainly one thing that might keep us from venturing north of the border more frequently, but the fact is that from Portland it's a relatively easy drive up to Vancouver. You wouldn't want to make a day trip of it, of course, but it's not so far away that you couldn't consider it a good spot for a 4-5 day trip.

There are plenty of reasons to travel to BC, and I enjoyed one of the best road trips of my life a few years ago when my mom and I drove up to Gwaii Haanas National Park from Portland. At the moment, however, I'm knee-deep in the final planning stages for the TBEX conference in Vancouver. Since it's a work trip I know I'll be focused primarily on the conference and the various meetings I've got scheduled over the four days I'll be in the city, but I'm hoping I'll get to do a few fun things while I'm there.
I've already got my TripDoc iPhone app loaded with all sorts of recommendations for dining out in Vancouver – including a few choice selections for great sushi and seafood, as well as a food truck that reportedly has good pizza. I'm excited to learn that at least one of the TBEX meetups is out on Granville Island, just in case I wouldn't have had time to get over there otherwise, and I love that the conference itself is in the Convention Centre right on the water. It's been far too long since I've been in Vancouver, and although I know I won't get to do much sight-seeing I'm looking forward to a fun trip.
And whaddaya know? Canada's one of the places listed on our recent "where to go in June" article – is it fate? You decide.
photo by caseyyee
What is BootBlog?
BootBlog is the company blog of the
BootsnAll Travel Network
, a company that has been connecting travellers since 1998. Our goal is to inspire, educate and cultivate an organic community of independent travellers. But what does that mean? Well, we love to travel and we love to connect other travellers who have the desire to get out and see this great world of ours. BootBlog will showcase what is going on around the office, around the company and within our community of travellers.
Top Categories
Featured Post
BootsnAll Launches Traveler Connect Facebook App
BootsnAll Travel Network is launching a Facebook application to connect travelers.
Portland, Oregon June 21, 2010
-- BootsnAll Travel Network has created a Facebook application --
BootsnAll Traveler Connect
-- that helps connect travelers. The app lets you find other travelers going to the same place you are, or connect with locals living there. Users can ask travel questions, arrange … [
Read more
]
Member Spotlight
BootsnAll Member Bideshi in Portland
It's been awhile since we had a BootsnAll member stop by the office. However, thank to a
recent post
on the message boards wondering where the Boots Crew were these days, we managed to arrange lunch with
Bideshi
, aka Mike (blue shirt below).
With a couple of stints working in South … [
Read more
]
Events
Boston Globe Travel Show for (Almost) Free!
Awhile back I posted here about getting into the
Boston Globe Travel Show for free
. Turns out that was for the trade conference during the day on Friday Feb 19th, not the travel show for regular consumers like you and me that runs from the
evening
of Friday, February 19 to … [
Read more
]
BnA on Twitter
Archives
We Recommend: