Holiday Shopping for the Travelers in Your Life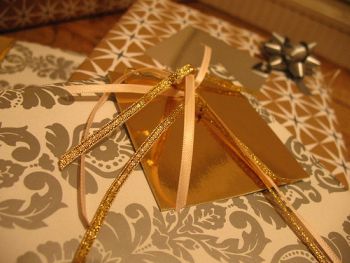 Black Friday is upon us, and with it comes the full-on onslaught of pre-holiday madness. The racing from store to store in search of the perfect gift, the hours spent in the checkout line, the anxiety of hoping that you found just the right gift the recipient. Well this year, I'm not doing it. Nope, I'm boycotting Black Friday. While some people I know love the ritual associated with one of the craziest shopping days of the year, I hate it. I even hate the name: Black Friday. Nothing about it sounds fun, and for me, nothing about it is fun.
This year, I'm doing all my holiday shopping online. I've got a list (a few lists actually), I've checked it twice, and I'm taking the easy way out. No getting up at the crack of dawn and hoping not to get trampled by rabid shoppers, no hours spend meticulously wrapping all those gifts and then schlepping them to my hometown on the train, and no stress. Instead I'm combing through our gift guide for travelers in search of the perfect gifts for the travelers on my holiday gift list: an instant cellphone charger for my mom, who travels on business and always seems to have a dead battery, a baby care travel kit for my expectant cousin, and compression packs for my world-traveling, mountain-climbing father-in-law.
One day into the holiday shopping season and I'm already halfway done with my list. No muss, no fuss. Gifts bought, wrapped, and on their way to the recipients, all with no stress for me. Now I've got time to search for some great Christmas travel deals or plan a last-minute getaway after the winter holidays. And that makes me merry indeed.
Photo by Alice Harold
Comments
I agree, Black Friday sounds unexciting.
Love to check those travel deals. It's much better to do shopping online, great deals and impressive customer service.
What is BootBlog?
BootBlog is the company blog of the
BootsnAll Travel Network
, a company that has been connecting travellers since 1998. Our goal is to inspire, educate and cultivate an organic community of independent travellers. But what does that mean? Well, we love to travel and we love to connect other travellers who have the desire to get out and see this great world of ours. BootBlog will showcase what is going on around the office, around the company and within our community of travellers.
Top Categories
Featured Post
BootsnAll Launches Traveler Connect Facebook App
BootsnAll Travel Network is launching a Facebook application to connect travelers.
Portland, Oregon June 21, 2010
-- BootsnAll Travel Network has created a Facebook application --
BootsnAll Traveler Connect
-- that helps connect travelers. The app lets you find other travelers going to the same place you are, or connect with locals living there. Users can ask travel questions, arrange … [
Read more
]
Member Spotlight
BootsnAll Member Bideshi in Portland
It's been awhile since we had a BootsnAll member stop by the office. However, thank to a
recent post
on the message boards wondering where the Boots Crew were these days, we managed to arrange lunch with
Bideshi
, aka Mike (blue shirt below).
With a couple of stints working in South … [
Read more
]
Events
Boston Globe Travel Show for (Almost) Free!
Awhile back I posted here about getting into the
Boston Globe Travel Show for free
. Turns out that was for the trade conference during the day on Friday Feb 19th, not the travel show for regular consumers like you and me that runs from the
evening
of Friday, February 19 to … [
Read more
]
BnA on Twitter
Archives
We Recommend: