Staying in Touch While Traveling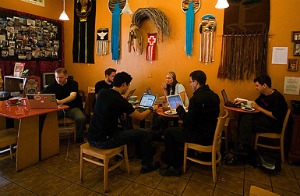 Certainly there are lots of reasons people leave home with a few things packed in a suitcase or backpack and hit the road for awhile, but one of the things most of the travelers I know love about taking a trip is the people they'll meet along the way. Many of my traveling friends prefer traveling solo, but even that doesn't keep them from making loads of friends wherever they go and returning home with a new list of contacts around the world.
Thanks to the internet, keeping in touch with fellow travelers once you've parted company is much easier than it used to be. The romance of receiving an actual letter in the mail – complete with a pretty stamp from the other side of the globe – may be a thing of the past for most of us, but some would argue that email brought back the concept of letter writing from an early grave. Social sites like Facebook and Twitter may have taken some of the elegance out of communication, but they deliver a kind of immediacy that's hard to beat – especially for those of us "instant gratification" types.
On the other hand, we've been hearing for some time now about how much hostel common rooms have changed since internet communication took over our world. The common room used to be the place where travelers would hang out and interact, where anyone traveling alone would go in the hopes of avoiding solo travel blues and making some new friends. These days you're more likely to find that common room full of travelers all hunched over their laptops and iPhones as they update their Facebook status.
So are these technological advances a help or a hindrance?
Of course the answer lies somewhere in between, and has more to do with the person using the tool than it does with the tool itself. You can very easily use Facebook to stay in touch with people you've met actually talking in real time in a hostel common room, or you can use it to avoid talking to people in the hostel. It's your choice. And while there's no right or wrong way to go, just as there's no right or wrong way to take a round the world trip, I know that I'm happy to talk to interesting people in real life whenever I can.
photo by Matt Biddulph
Comments
Definitely noticed a change of atmosphere – people seem more "plugged in" and less open to conversations with random people
What is BootBlog?
BootBlog is the company blog of the
BootsnAll Travel Network
, a company that has been connecting travellers since 1998. Our goal is to inspire, educate and cultivate an organic community of independent travellers. But what does that mean? Well, we love to travel and we love to connect other travellers who have the desire to get out and see this great world of ours. BootBlog will showcase what is going on around the office, around the company and within our community of travellers.
Top Categories
Featured Post
BootsnAll Launches Traveler Connect Facebook App
BootsnAll Travel Network is launching a Facebook application to connect travelers.
Portland, Oregon June 21, 2010
-- BootsnAll Travel Network has created a Facebook application --
BootsnAll Traveler Connect
-- that helps connect travelers. The app lets you find other travelers going to the same place you are, or connect with locals living there. Users can ask travel questions, arrange … [
Read more
]
Member Spotlight
BootsnAll Member Bideshi in Portland
It's been awhile since we had a BootsnAll member stop by the office. However, thank to a
recent post
on the message boards wondering where the Boots Crew were these days, we managed to arrange lunch with
Bideshi
, aka Mike (blue shirt below).
With a couple of stints working in South … [
Read more
]
Events
Boston Globe Travel Show for (Almost) Free!
Awhile back I posted here about getting into the
Boston Globe Travel Show for free
. Turns out that was for the trade conference during the day on Friday Feb 19th, not the travel show for regular consumers like you and me that runs from the
evening
of Friday, February 19 to … [
Read more
]
BnA on Twitter
Archives
We Recommend: