There's gonna be a Bootie wedding!
Those of you who read the BootBlog may remember my recent musings on how online friends become real-life friends. What some of you who read that article may not know is that I heard from several BootsnAll members after it was published who said, "Yeah, that's interesting and all, but we've been doing that for years now." And it's true. The BootsnAll Travel Community is a seriously social bunch, many of whom aren't content to carry on cyber-friendships. Booties (as they tend to call themselves) have been organizing and enjoying meetups all over the world for ages, and we at BootsnAll love that.
So while it shouldn't surprise us that a concentrated pool of people who love travel and like to socialize with one another should, occasionally, produce a romantic liaison, we were absolutely chuffed to learn that there was a Bootie proposal this week. And even better, she said yes.
Stu proposed to Robyn!
(Or, for those of you who know them by their BootsnAll screen names, Stoo proposed to dopeyzn!)

The two first began chatting on the BootsnAll boards and chat room in late 2006, but didn't meet face-to-face until two years later. Their flights into Portland for the big 10-year BootsnAll anniversary bash in December 2008 arrived close enough to one another that Julie (AKA Callilucy), their airport-to-hostel driver, picked them both up at the same time. It must have been love at first sight, because Stu says, "I remember so clearly Robyn coming down the escalator in flip flops, Julie and I had just eaten a cookie (that I baked) and Robyn's luggage was lost."
Nothing like exchanging lost bag stories at the luggage claim center at PDX to light a spark, eh?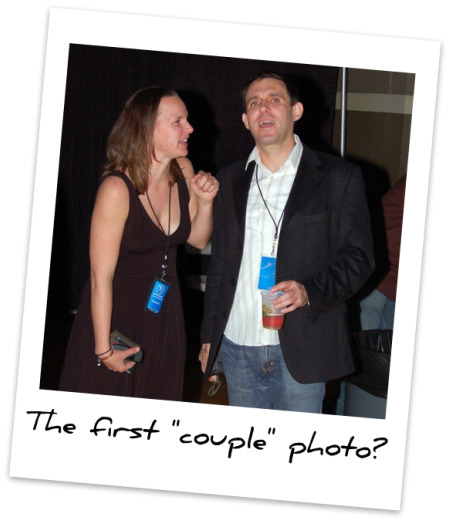 When I asked how Stu had proposed, Robyn piqued my interest by saying, "the proposal was very Italian." The full story wasn't as fabulous as I'd been hoping (perhaps Stu dressed as a Venetian gondoliere and serenading Robyn with a rose between his teeth, or Stu shouting at Robyn over the din of the Vespa they were both riding at a heart-stopping pace through traffic?), but it was very sweet. Stu said, "I proposed over home-cooked pasta with a Ticino Merlot." The fact that the wine was from the Italian region of Switzerland and not Italy proper is, in this case, something I'll forgive. (But don't let it happen again, mister.)
Their courtship has already spanned three continents, as Robyn has lived in South Africa and the U.S. in the past year and Stu's been in Switzerland – and the two know they've got a mountain of visa paperwork ahead of them. But right now they're giddy. As they should be. And as we are for them.
So we'll raise a glass today at BootsnAll HQ to Stu & Robyn, wishing them all the best and hoping for an invite to the wedding bash – wherever the hell it ends up being.
Comments
Hey Stu and Robyn. Congratulations!! Great news! I think you should get married in New Zealand – it worked for us!
Congratulations! Now BootsnAll can start making the big bucks as an online dating site!!!
Very happy for the cross-pollinating booties.
What a cool story! Congratulations, Stu and Robyn!
What is BootBlog?
BootBlog is the company blog of the
BootsnAll Travel Network
, a company that has been connecting travellers since 1998. Our goal is to inspire, educate and cultivate an organic community of independent travellers. But what does that mean? Well, we love to travel and we love to connect other travellers who have the desire to get out and see this great world of ours. BootBlog will showcase what is going on around the office, around the company and within our community of travellers.
Top Categories
Featured Post
BootsnAll Launches Traveler Connect Facebook App
BootsnAll Travel Network is launching a Facebook application to connect travelers.
Portland, Oregon June 21, 2010
-- BootsnAll Travel Network has created a Facebook application --
BootsnAll Traveler Connect
-- that helps connect travelers. The app lets you find other travelers going to the same place you are, or connect with locals living there. Users can ask travel questions, arrange … [
Read more
]
Member Spotlight
BootsnAll Member Bideshi in Portland
It's been awhile since we had a BootsnAll member stop by the office. However, thank to a
recent post
on the message boards wondering where the Boots Crew were these days, we managed to arrange lunch with
Bideshi
, aka Mike (blue shirt below).
With a couple of stints working in South … [
Read more
]
Events
Boston Globe Travel Show for (Almost) Free!
Awhile back I posted here about getting into the
Boston Globe Travel Show for free
. Turns out that was for the trade conference during the day on Friday Feb 19th, not the travel show for regular consumers like you and me that runs from the
evening
of Friday, February 19 to … [
Read more
]
BnA on Twitter
Archives
We Recommend: