Travelers Making a Difference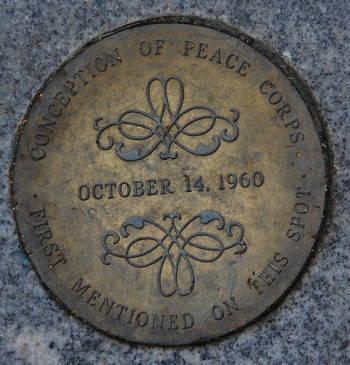 For many travelers, a desire to see the world also fosters a desire to change it, to help people in countries and cities both near and far away, to make a connection, to make a difference.
For some that means going on voluntourism trips – organized trips specifically designed to incorporate volunteer projects in a specific place, which are fully planned by an agency that handles travel, accommodations, and even medical evacuation insurance.
For others it means seeking out opportunities in the place they happen to be visiting. Both can make a significant impact, both on the traveler and on the communities where he or she volunteers.
Others though, are looking for more long-term volunteering opportunities – the chance to stick with one project over the course of weeks, months, or years, and see how dedicated service can make a difference in the long term. One popular long-term service option is the Peace Corps.
Known as "the hardest job you'll ever love," volunteering in the Peace Corps is a rewarding but challenging job, and one that some travelers jump into for the wrong reasons. The idea of living and traveling abroad, changing the world and coming away with some serious bragging rights for your resume may entice you to apply, but these are are all reasons not to join the Peace Corps – or at least, they are reasons that are not enough on their own.
Each of these reasons is valid, but they may not be enough to sustain you for two hard years, and if they are the reasons that lead you to be a PCV, the reality of what you find once you accept your post may disappoint you. Peace Corps volunteers live as the locals do, in the same housing, and on the same salary, which means any dreams you have had of a year abroad exploring the world in style will soon be shattered. And the idea of putting "Peace Corps volunteer" on your resume may be a motivating factor, but it won't get you through the hardest days.
The biggest challenge many Peace Corps volunteers face is the same that anyone who volunteers while traveling may need to overcome – the disillusionment of being able to change the world. Whether you volunteer for a few days, a few months, or several years, it's important to realize that change more often (and often, more importantly) happens first on a micro level. Your efforts might not change the world but they may change one person, or one community, and that can make all the difference to a person in need.
Photo by afagen
What is BootBlog?
BootBlog is the company blog of the
BootsnAll Travel Network
, a company that has been connecting travellers since 1998. Our goal is to inspire, educate and cultivate an organic community of independent travellers. But what does that mean? Well, we love to travel and we love to connect other travellers who have the desire to get out and see this great world of ours. BootBlog will showcase what is going on around the office, around the company and within our community of travellers.
Top Categories
Featured Post
BootsnAll Launches Traveler Connect Facebook App
BootsnAll Travel Network is launching a Facebook application to connect travelers.
Portland, Oregon June 21, 2010
-- BootsnAll Travel Network has created a Facebook application --
BootsnAll Traveler Connect
-- that helps connect travelers. The app lets you find other travelers going to the same place you are, or connect with locals living there. Users can ask travel questions, arrange … [
Read more
]
Member Spotlight
BootsnAll Member Bideshi in Portland
It's been awhile since we had a BootsnAll member stop by the office. However, thank to a
recent post
on the message boards wondering where the Boots Crew were these days, we managed to arrange lunch with
Bideshi
, aka Mike (blue shirt below).
With a couple of stints working in South … [
Read more
]
Events
Boston Globe Travel Show for (Almost) Free!
Awhile back I posted here about getting into the
Boston Globe Travel Show for free
. Turns out that was for the trade conference during the day on Friday Feb 19th, not the travel show for regular consumers like you and me that runs from the
evening
of Friday, February 19 to … [
Read more
]
BnA on Twitter
Archives
We Recommend: