Visting Rottnest Island in Australia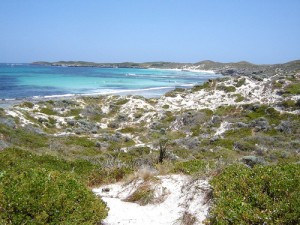 One of the must-see attractions in Western Australia., the tiny island of Rottnest sites 19 kilometers off the coast near Fremantle. Attracting tourists and locals, Rottnest is know for its beautiful, clean and secluded beaches. Book your airfare to Australia into Perth, and you can easily visit  Rottnest as a great day trip.
A 25 minute ferry whisks passengers from Fremantle to Rottnest, or you can take the 90 minute ferry from Perth (just be sure to bring a cure for motion sickness if you are prone to it!). Small charter flights and helicopter flights also depart from Perth but are a much more expensive option.  Once on the island, you can easily get around on bikes or opt for an all hop on and hop off bus pass for just $13, adult.
On Rottnest Island you can do as much or as little as you like: lay on one of the island's 63 beaches, go snorkeling, fishing or get in a round of golf. Accommodation runs the gamut as well, from hostels and campgrounds to villas and hotels, so you can spend as much or as little as you like. For more, just check out our Rottnest Island travel guide.
Photo by vtveen
Comments
Haven't been there. I like the picture, must be beautiful there.
Thanks for sharing this nice information to us. I think i have listen same what you say about Rottnest Island "Attracting tourists and locals, Rottnest is know for its beautiful, clean and secluded beaches" in Australia i have visited mostly all area but when you tell me about it. I am so excited about this place.
Rottnest Island is a good island, my scuba diving journey was fantastic and also I spend half day at Basin for snorkeling. My entire trip in Western Australia was amazing.
The Rottnest Island in Australia is an amazing allurement for the tourists for its tremendous amount of scenic beauty and the relaxed ambience. It provides the ultimate setting for travellers to spend some mind soothing time.
What is BootBlog?
BootBlog is the company blog of the
BootsnAll Travel Network
, a company that has been connecting travellers since 1998. Our goal is to inspire, educate and cultivate an organic community of independent travellers. But what does that mean? Well, we love to travel and we love to connect other travellers who have the desire to get out and see this great world of ours. BootBlog will showcase what is going on around the office, around the company and within our community of travellers.
Top Categories
Featured Post
BootsnAll Launches Traveler Connect Facebook App
BootsnAll Travel Network is launching a Facebook application to connect travelers.
Portland, Oregon June 21, 2010
-- BootsnAll Travel Network has created a Facebook application --
BootsnAll Traveler Connect
-- that helps connect travelers. The app lets you find other travelers going to the same place you are, or connect with locals living there. Users can ask travel questions, arrange … [
Read more
]
Member Spotlight
BootsnAll Member Bideshi in Portland
It's been awhile since we had a BootsnAll member stop by the office. However, thank to a
recent post
on the message boards wondering where the Boots Crew were these days, we managed to arrange lunch with
Bideshi
, aka Mike (blue shirt below).
With a couple of stints working in South … [
Read more
]
Events
Boston Globe Travel Show for (Almost) Free!
Awhile back I posted here about getting into the
Boston Globe Travel Show for free
. Turns out that was for the trade conference during the day on Friday Feb 19th, not the travel show for regular consumers like you and me that runs from the
evening
of Friday, February 19 to … [
Read more
]
BnA on Twitter
Archives
We Recommend: