What Are Your Best Tips for Packing Light?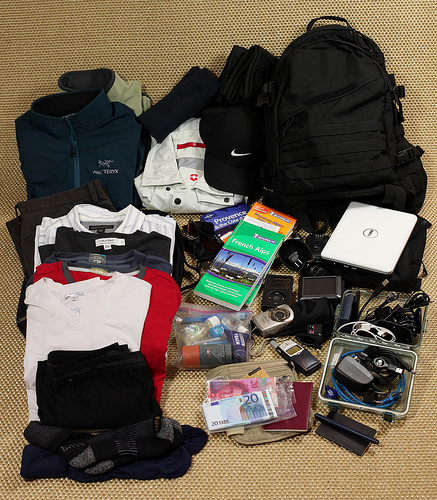 Travelers – budget travelers, backpackers and luxury travelers alike – all know the importance of packing light. If there was any doubt, the airlines have drilled the idea into our heads with their exorbitant and punitive luggage fees. So we all know that we should be packing as light as possible, but there's a big leap from knowing what we should do, to actually learning the methods to do it.
Like many travelers I lay out my travel clothing, every last pair of heels, skirt, workout top or sweatshirt I want to take on my trip, and then begin to whittle down the pile. But at the end of what I think is a merciless cutting session, I'm often still left with too much stuff.
Even if I can cram it all into my carry-on (because I stubbornly refuse to check a bag), I'm often left with a bag so heavy I doubt my ability to carry it more than a few yards on even terrain – let alone while running full tilt to catch a plane or while trekking up a steep hill to my hostel. And so I cut again, and end up on a trip missing at least one vital item that I impulsively removed from my bag. Over the years, I've learned there's a fine line between packing light and being unprepared.
One of the most common tips from budget travelers is to "pack light" but the methodology is as varied as each individual traveler.
Some people rely on washing their clothes while on a trip while others swear by a certain type of travel bag. Some travelers make every item do double or triple duty (scarves double as sarongs, light sweaters are layered on cold night) and others have fine-tuned a wardrobe based on a single color scheme. It seems everyone has their own system. So we'd like to know, when it comes to only carrying what you absolutely need, what are your best tips for packing light?
Photo by muninn
Comments
I always try to pack the less weighted clothes plus try to avoid the things that are of less use…Also i try to pack only one bag so that it can allow me to travel freely..
I'm very strict with my packing and have everything in its right place. I never change a rule. I hardly use anything in the hotel room. I wheel my own wardrobe in and that's it.
Lightweight clothes in vacuum sealed plastic bags. Really reduces volume and hence the number of bags you'll be carrying on your trip. And it makes more room for your newly acquired souvenirs!
Try to make it light, easy for the purpose of you you can carry with the easiest way. When any body carry heavy bag so a lot of problem arises in front of them. If you got little bit things with you, when you want to go outside travel then its get relief for you.
What is BootBlog?
BootBlog is the company blog of the
BootsnAll Travel Network
, a company that has been connecting travellers since 1998. Our goal is to inspire, educate and cultivate an organic community of independent travellers. But what does that mean? Well, we love to travel and we love to connect other travellers who have the desire to get out and see this great world of ours. BootBlog will showcase what is going on around the office, around the company and within our community of travellers.
Top Categories
Featured Post
BootsnAll Launches Traveler Connect Facebook App
BootsnAll Travel Network is launching a Facebook application to connect travelers.
Portland, Oregon June 21, 2010
-- BootsnAll Travel Network has created a Facebook application --
BootsnAll Traveler Connect
-- that helps connect travelers. The app lets you find other travelers going to the same place you are, or connect with locals living there. Users can ask travel questions, arrange … [
Read more
]
Member Spotlight
BootsnAll Member Bideshi in Portland
It's been awhile since we had a BootsnAll member stop by the office. However, thank to a
recent post
on the message boards wondering where the Boots Crew were these days, we managed to arrange lunch with
Bideshi
, aka Mike (blue shirt below).
With a couple of stints working in South … [
Read more
]
Events
Boston Globe Travel Show for (Almost) Free!
Awhile back I posted here about getting into the
Boston Globe Travel Show for free
. Turns out that was for the trade conference during the day on Friday Feb 19th, not the travel show for regular consumers like you and me that runs from the
evening
of Friday, February 19 to … [
Read more
]
BnA on Twitter
Archives
We Recommend: